Willy and his Giants
---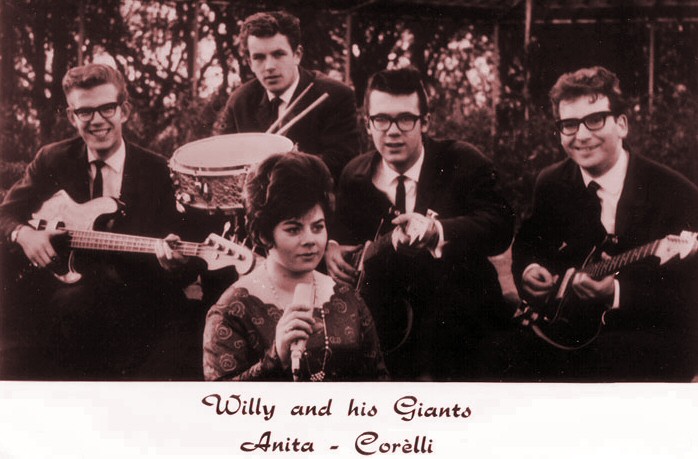 In 1961 speelde de op 29 maart 1938 in Den Haag geboren Willy Wissink in de Rhythm Folks en organiseerde vanaf 1959 tevens dansavonden op de lokatie van de rolschaatsbaan in het Haagse Zuiderpark. Een van de groepen die daar ook optraden waren "The Giants". Deze groep bestond uit: Theo Bacchus - sologitaar, Henk Smitskamp - basgitaar, Wil v.d.Hurk - piano/zang en Hans de Wekker - drums.

Nadat Willy Wissink zich bij de Giants had gevoegd, volgden enkele opnamen onder de nieuwe groepsnaam "Willy and his Giants" voor het platenlabel "Artone". De eerste single die werd opgenomen was "Sarie Marijs" en "Winnitou". Van hun tweede single "Ajoen Ajoen" en "The Huckleberry Beat" werden meer dan 100.000 exemplaren verkocht. Met hun instrumentale rock werd de groep beroemd tot in oostelijk AziŽ toe. "Willy and his Giants kende in de loop der jaren diverse samenstellingen. De samenstelling bij de opnamen van de eerste single was: in 1963: Willy Wissink - sologitaar, Henk Smitskamp - basgitaar - Ed Klee - slaggitaar en Hans de Wekker - drums.

De groep ging in 1965, na Eddy Jones op zijn single te hebben begeleid, uiteen om kort daarna weer opnieuw te gaan spelen in een andere samenstelling. Met Eddy Jones (Eddy Becker), beter bekend als diskjockey en later als presentator op televisie, werden twee singles opgenomen. Eddy speelde bovendien in 1966 korte tijd bas bij Willy and his Giants.

Op de LP van 1981 'Back Again' drumde Willy's zoon Will Wissink jr mee, Willy drumde in de band van zijn vader vanaf zijn 12e jaar mee. Op 19 jarige leeftijd gaf hij voorrang aan zijn studie bij de filmacademie en verliet de band. Zijn opvolger achter de drums werd zijn jongere broer Johnny. Johnny overleed helaas op de jeugdige leeftijd van 25 jaar aan de gevreesde ziekte aids. Will jr. is inmiddels een succesvol regisseur van films o.a. "Dropout" en TV-series o.a. "12 steden, 13 ongelukken".

The Giants
Theo Bacchus - sologitaar
Henk Smitskamp - basgitaar
Wil v.d.Hurk - piano/zang
Hans de Wekker - drums
Louis Nol - gitaar (incidenteel als extra gitarist)

Willy and his Giants (eerste bezetting - in deze bezetting werd de eerste single "Sarie Marijs"/ "Winnitou" opgenomen)
Willy Wissink - sologitaar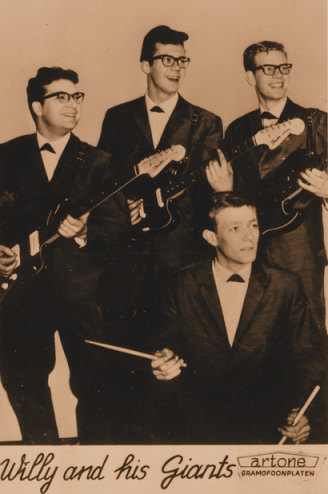 Henk Smitskamp - basgitaar
Ed Klee - slaggitaar
Hans de Wekker - drums (Hans vertrekt hierna als beroeps naar Duitsland)

Overige bandleden die in Willy and his Giants kortere of langere tijd speelden:
Guido Bom - slaggitaar
Nicky Lensvelt - basgitaar
Walter Fick (alias Wally Eyck) - drums
Sieb Warner - drums
Louis Blonk - drums
Will Wissink jr - drums
Johnny Wissink - drums†
Anita Corelli (Peggie Shoe) - zang
Eddy Jones (Eddy Becker) - basgitaar/zang
Eddy v.d. Zwan - slaggitaar
Tony Hagen - basgitaar
Eddy de Jong - basgitaar
Ron Westerbeek - keyboards
Dolf Haring - pedal steelgitaar
Wil v.d. Hurk - keyboards
Ben Poetiray - gitaar

Met dank aan Hans de Wekker voor de aanvullende info.
---
Discografie: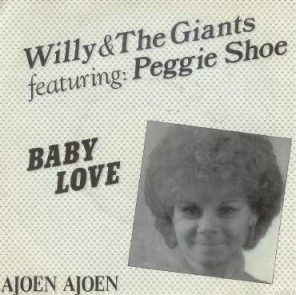 Willy and his Giants
1962 Sarie Marijs / Winnetou (onder de naam Giants) (Artone DR 25132)
1963 Ajoen ajoen / The Huckleberry Beat (Artone DR 25163)
1963 Guitar Battle Blues / Auld Lang Syne (Artone DR 25174)
1963 Sarina / Terang Boelan (Artone DR 25177)
1963 Sarie Marijs / Winnetou / Ajoen Ajoen / The Huckleberry Beat (Artone EPDR 6727) (EP)
1964 The Swingin' Music Box / March Of The Giants (Funckler DL 45116)
1965 Piper Blues / Sweety (Funckler DL 45153)
1965 The Swingin' Music Box (met de 2 Funckler singles) (EP)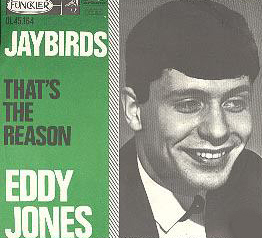 1965 The Beat Boys (Funckler PDR 125) (LP)
1978 Ajoen Ajoen (is LP The Beat Boys van 1965) (CBS 53870)
1980 Sarie Marijs (op dubbelelpee van de Haagse Beatnach) (CNR 772005106)
1981 Willy's Melody / Save The Rock & Roll Of 1961 (Artone ART 25010)
1981 Back Again (Artone 5003) (LP)
Eddy Jones met Willy and his Giants

1965 Jaybirds / That's The Reason (Funckler DL 45164)
1965 Happy Happy / My Kind Of Heaven (Funckler DL 45193)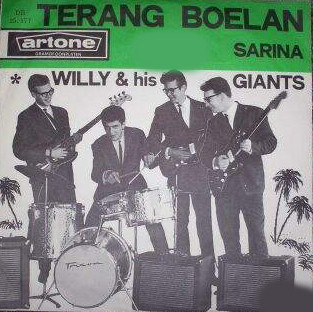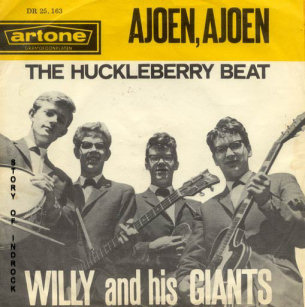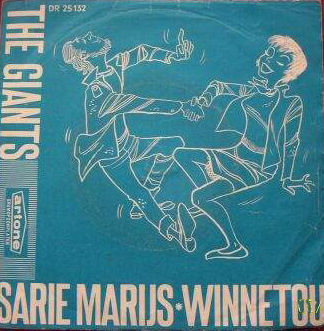 ---
GEHEEL OF GEDEELTELIJKE OVERNAME VAN ARTIKELEN OF FOTO'S IS
UITSLUITEND TOEGESTAAN MET TOESTEMMING EN BRONVERMELDING.©®

Muziek: Sarie Marijs van "Willy and his Giants"
Uw reactie of aanvullende informatie
op deze Indorock site zie ik graag
tegemoet via mijn e-mail.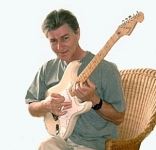 Henk Looijestijn