JOHNNY LION AND THE JUMPING JEWELS / YOU'VE DONE IT AGAIN (Tekst)
You've done it again little girl, you've found another guy (Other guy)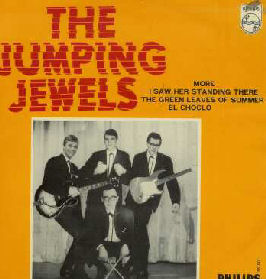 I'm sitting here I'm all alone at home to cry (Home to cry)
And I know (I know)
Well I now know (I know)
That I love you (I know) love you so
You've done it again, you've done it again, little girl
I always went to hold you ever so tight
Only you, out through the night
I only wish that you would say:
"I love you, I love you"
(I love you)
You've done it again little girl, you've found somebody new (Body new)
I have been good and fast only for you (Only for you)
And I know (I know)
Well I now know (I know)
That I love you (I know) love you so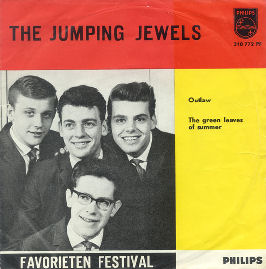 You've done it again, you've done it again, little girl
I always went to hold you ever so dicht
Only you, out through the night
I only wish that you would say:
"I love you, I love you"
(I love you)
You've done it again little girl, you've found another guy (Other guy)
I'm sitting here, I'm all alone at home to cry (Home to cry)
And I know (I know)
Well I now know (I know)
That I love you (I know) love you so
You've done it again, you've done it again little girl
You've done it again, you've done it again little girl
You've done it again, you've done it again little girl
---
The story of the Jumping Jewels
This is a classic case of the evolution of a group, the story of formation and reformation, a graph of ups and downs of the popscene, a profile of both how hard and how easy it can be to get to the top and stay there.
The forerunner of the Jumping Jewels appeared in 1958 when Hans van Eijk founded Johnny and his Jumping Jewels with seven schoolfriends. It worked well enough in popularity, but less well financially. Three of the eight were fired and the sound was adapted. The name was shortened to the Jumping Jewels and in 1961 their first single, Wheels, came on the market. It sold 40000 copies, which at that time was very high, especially for an instrumental recording.
The boys who made that happen were Joop Oonk on bassguitar, Cees Kranenburg on drums, Tjibbe Veeloo on rythmguitar and of course Hans van Eijk responsible for the leadguitarsounds.
One year after their first entry in the charts, the Dutch army stepped in, making an offer which couldn't be refused: service with the army, but as a group. In Germany, France and Belgium they became as well known as in Holland, where in 62, 63 and 64, they were voted Group of the Year by most Popmagazines.
Then came a 10-week Far East tour followed by a performance during the Grand Gala du Disque, a famous Eurvision television broadcast, where they worked with artists like Marlene Dietrich, Trini Lopez, Petula Clark and their Swedish instrumental colleagues, The Spotnicks.
The crunch came in 1965. The Jewels had a contract with a circus which demanded from them and singer Johnny Lion to do 500 performances in six months. This lead to exhaustion and tension so great that the group broke up and got caught in a juridical fight with their manager about possession of the name. Ultimately they lost in court and had to change their name in Jay Jays. Hans van Eijk left the group and with the Beatle-rage coming up they recorded a couple of vocal songs. The Jay Jays produced one big hit in Holland, but didn't quite manage to continue the success of the Jumping Jewels.
In 1973, a new Jewels LP came on the market and sold well, although most of the material was old and partially re-recorded by Hans. Despite the obvious promise, the old formation could not be put together again. In 1992, a Dutch Music and Organisation bureau, succeeded in bringing the original group together for one reunion performance in The Hague. This performance turned out to be so successful that one week later they made their comeback in a famous Dutch television show. From that moment on, Hans, Joop and Kees decided to come together every time when something special should come along. Just because they love to play their music and bring joy to their fans all over the world!